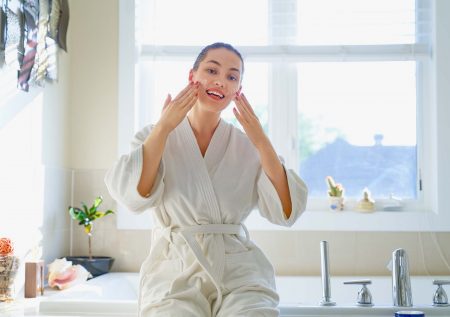 The lockdown restrictions are beginning to get to all of us now. To help you feel better, we've compiled this short summary of self-care tips to tide you over. Not only will they give you a dose of much-needed pampering, but they will also ensure you're looking great when this is all over so you can head out to face the world once again with confidence.
At-home personal care and beauty tips
1. Hair removal for bikini line, underarms, legs, and face
If you're partway through a course of IPL hair removal, you're probably starting to experience some regrowth by now. If you're too much of a coward to consider using the cold wax strips you can pick up from your local pharmacy, check out the wide variety of hair removal epilation creams on sale instead. These creams are easy to apply and simply need to be wiped or rinsed off. You'll need to buy a separate facial hair removal cream to melt away stray hairs from the delicate zones on your face or neck.
2. Face peels at home
There's no substitute for the medical-grade face peels offered here at Medskin Clinic, but at-home skin peels can stop your complexion getting dull during coronavirus lockdown. If you're buying over the counter facial peels, look for products containing AHAs, alongside skin brighteners such as ferulic acid or Vitamin C.
We recommend no more than two home skin peels weekly, and you should always apply your richest moisturiser after any home treatment.
3. Homemade beauty peels
If you prefer to make your own skin peels with ingredients commonly found in your store cupboard, we recommend recipes using eggs, honey, oatmeal, yoghurt, milk, and sugar will be most beneficial. Oranges are ok in moderation, but avoid lemons or limes, as they're really too acidic to apply to the face. You should also be careful of any recipes that include common herbs or spices, as some of them can be damaging.
It's vital to be careful with any DIY products, or skin peels that are marketed as medical-grade, as some ingredients can actually cause redness, scarring, dryness, or irritation.
Find out more at Medskin Clinic today
The qualified and experienced team offer a wide range of aesthetic treatments from our clinics in Nottingham, Newark, and Chesterfield. What's more, all initial consultations are absolutely free! If you need a boost from rejuvenating treatments, such as Forehead Smoothing Injections, Microdermabrasion, Thread Vein Removal, or B12 Injections you can use our Online Chat to learn more about our superb range of medical aesthetic treatments in your area.