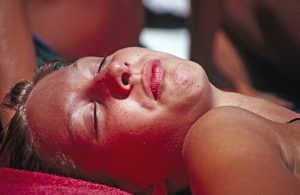 Sunspots are brown patches that develop on certain parts of a person's skin. The spots – which are the result of too much exposure to the sun – can appear on many different parts of the body. It is, however, the face where most people are concerned about them developing. Luckily, you can have your sunspots removed with an Intense Pulse Light. As you weigh up whether to take advantage of the procedure, let's look at three benefits that you'll stand to enjoy when it's complete.
Your attitude
You'll be set to have a better relationship with the sun once you've had your sunspots removed. This should mean that you aren't tempted to shy away from relaxing beach holidays or outdoor social occasions. Once you've experienced just how effective the procedure is, you can re-establish a more positive relationship with the sun without fear that it can permanently mar your appearance with sunspots.
Your age
Sunspots are most commonly seen in adults over 50. Due to this, they can often add extra years onto a person's face, preemptively ageing their appearance. You don't, however, have to wave goodbye to your youth just because you've got sunspots. Instead, you can simply have them removed with an Intense Pulse Light and hide any signs of your age from the world by maintaining a more youthful complexion.
Your confidence
Unfortunately, sunspots are quite hard to cover. They are certainly problematic for those who want to present a more natural skin tone, so, therefore, can't use different types of make-up to hide the brown patches. Rather than forever worrying that your patches are becoming more prominent and that people can't help but stare, you should find yourself with a renewed sense of confidence once you've had your sunspots removed.
Make the change!
MedSkin Clinic has a team of professionals who are skilled at removing patients' sunspots by using an Intense Pulse Light. If you're fed up of seeing the patches every time you look in the mirror and are ready to make a change, then be sure to get in touch for more information.