Anti Wrinkle Injections West Bridgford Nottingham
It's inevitable. The day will come when you spot your first wrinkle and think, "this is it… there's no way back." However, the earlier you start looking after your skin, the easier it will be to keep wrinkles at bay.
All is not lost with the first signs of wrinkles. Although you can't turn back the clock, it's never too late to start with a daily, healthy self-care and skincare routine to slow the ageing process down. Everyone should invest in a regular skincare routine that involves three steps: cleansing, toning, and moisturising. A more thorough pampering session once or twice a week to exfoliate and use a facial mask will also help resurface your skin.
Botox Injections Nottingham, West Bridgford and Nottingham
If you feel like dermal fillers or Botox could be the best route for you, schedule a free consolation at one of our Medskin Clinic's based in Chesterfield, Newark and Nottingham. Our nurses travel throughout these regions and may have a clinic that's very local to you in the surrounding areas of West Bridgford and Beeston.
Call now on: 03301 132 2640 or send a message online with your postcode, we will be in touch shortly. Did you know? If you prefer, you can text our team direct on 07537 416 110 (SMS only).
However, if you consider what your skin and body is subjected to environmentally and nutritionally, there are additional measures you can put in place to limit the damage, both from the inside and out.
Wrinkles from sun bathing, sunbeds and UV light
While everyone loves lapping up the sun, those UV rays are super harmful. Make sure before leaving the house you cover your exposed skin with a sun protection cream with at least a 30SPF. And if it's a particularly hot day, switch it up to SPF50. Block those rays as much as possible.
Anti Wrinkle Botox Injections from Medskin Clinics Nottingham, Newark and Chesterfield
While diet and lifestyle changes will help, you can also aid your skin care with professional peels and anti-wrinkle injections. These are all perfectly safe procedures and available at our clinics in Chesterfield, Newark and Nottingham.
Read our blog post "Types of Dermal Fillers Hyaluronic Acid, Calcium Hydroxylapatite and Botox Benefits" and chat to one of our qualified Nurse consultants to discuss cost-effective options and a free consultation.
Lockdown Restrictions Easing in 2021 – Say hello to a whole new you with these permanent beauty boosters. From a rejuvenating facial peel to volumising lip fillers, these beauty treatments are the perfect boost for the new year.
Facial peels and Microdermabrasion for fresh, healthy skin
Tired skin is so hard to tackle, and if you've tried countless expensive creams and mythical anti-ageing solutions, a facial peel always offers incredible results. If your skin is tired, blocked or dull, a medical-grade facial peel can give your skin a new lease of life. By getting rid of dead and damaged skin cells, it will reveal the smooth, healthy skin that you've been longing for.
MedSkin Clinic offers a variety of transforming filler treatments including Lip Fillers, Dermal fillers, Tear Troughs, Facial sculpting, to Cheek Enhancements. Other body areas with specialist treatments are Feet and Hand Rejuvenation, Décolletage cleavage areas, 3D Skintech Microdermabrasion (for acne and skin scarring) to our popular selection of Facial Peels.
Intense pulse light hair removal
If you feel like you spend forever plucking and tweezing unwanted hair, then you should definitely consider IPL hair removal. Intense pulse light is used to heat and destroy hair follicles, so you never have to worry about unwanted hair again. It's a quick and relatively painless procedure that can be done on your lunch break!
Lip Fillers, Safe and Tiny Injections in Nottingham and Chesterfield
Full, plump lips are always a beauty favourite, and if you haven't tried lip fillers yet, you'll be amazed at the results. If you want a new smile for the new year, the lip filler procedure couldn't be simpler. Our lip filler treatment can be injected in tiny amounts into your lips to create the smile you always wanted. We take a gradual, careful approach so you don't have to worry about too-big lips and we can target the injections where you want your lips to be fullest.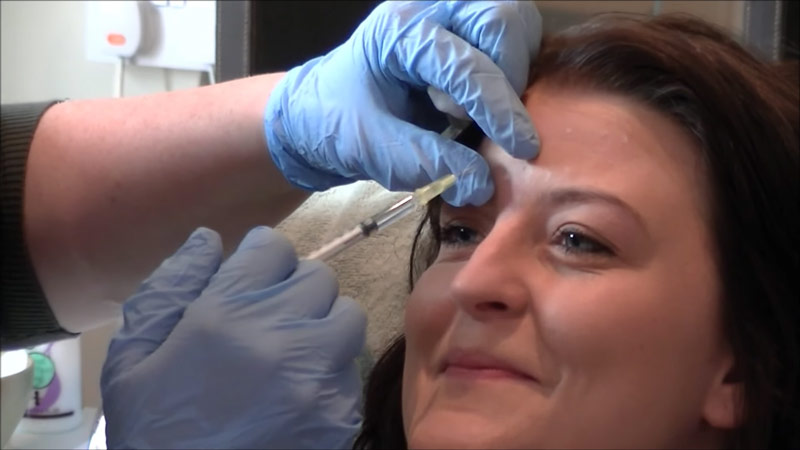 Cryotherapy to remove skin imperfections
Though they may be only tiny, skin tags, warts and age spots can make us really self-conscious. If you've got a skin imperfection that you're always trying to hide in photos, we can completely get rid of it with our effective CryoPen treatments. At Medskin Clinic, we know just how much the tiniest imperfection can affect your self-confidence, and our expert nurse-led team can help you find the right solution for you and your new look. The cryotherapy process only takes a couple of seconds and it can completely change how you see yourself.
Smoking is a big no no. Stop or at least cut down. Those chemicals alone do enough damage, but have you ever watched a person's face as they pull on that cigarette? The pursing of the lips, the furrowed brow… do that twenty times a day and you're bound to engrain that into your face after time.
You are what you eat…
Diet also plays a big part in maintaining healthy skin. Antioxidants come into play here in the form of purple, green and yellow fruits and veggies which can help to prevent damage caused by environmental stressors. You should also substitute processed foods and red meats with (healthy) oily foods such as salmon and avocado.
For those of you who have a sweet tooth, don't be shy with the dark chocolate. You'll be pleased to know its cocoa base is considered healthy, and it has less sugar than milk varieties which can otherwise take their toll on your skin.
Finally, don't forget to keep hydrated. Drink at least 6 glasses of water a day. It can be difficult when the weather is cold, but your skin will thank you later. Also, ensure you're using a hydrating facial serum and moisturiser.