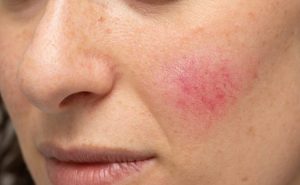 The first sign that you're suffering from rosacea will be the way that it changes your appearance. The skin condition – which can come in different forms of pimples, redness and swelling – generally affects the face. There are, however, more than just aesthetic-based reasons for wanting to treat the condition. Rosacea can have a far-reaching impact on a person's health and confidence, and the problems will only get worse if left untreated. If you're weighing up whether to have the symptoms treated with the popular means of an Intense Pulse Light, let's look at three non-aesthetic reasons for tackling rosacea.
Pain
Rosacea can strip the goodness away from the skin and leave it feeling extremely delicate. This might be manageable at first, but over time it can make certain areas rather painful. It's not uncommon for sufferers to report that an area feels 'hot' or 'stinging' – sensations which can dampen your mood and cause you varying degrees of discomfort throughout the day.
Vision
You risk developing problems with your vision when you don't take steps to treat rosacea. This can be centralised around the nose area before spreading up to the eyelids. Ultimately, the eyes are then likely to become irritated. The result of this is blurred vision – something can then lead to other complications that might need to be treated by an osteopathic doctor.
Swelling
Swelling is, of course, an aesthetic issue. However, it's also one that can make like difficult in other ways – such as wearing glasses or getting dressed in the morning. Rosacea can cause an ailment known as rhinophyma, which is an enlargement of the nose. This can be a huge hindrance for many people, making this area of the face a place that's easy for them to accidentally catch and injure.
Don't wait any longer
It's important that you consider the non-aesthetic reasons for tackling your rosacea – even if you're not yet suffering from these exact symptoms. Luckily, you can start the process by getting in touch with the medical professionals at MedSkin Clinic. You'll then be able to find out all the information you need about the Intense Pulse Light procedure.